2018, when Lithuania is celebrating its 100th birthday, is THE time to visit and re-explore the country you would be surprised how many people do not know. And I can tell you one thing, whatever your stereotypes and expectations for this ex-Soviet country are, just forget it, because Lithuania is far more interesting, than people might think.
So say 'happy birthday' to Lithuania by learning a tiny bit more about this mysterious land of forest and swamps, visit it and share the word with your family and friends. Let me seduce you with the stories and pictures but once you come and see it by yourself, I promise, you will not be disappointed.
---
Biržai. This town is my absolute favorite in Lithuania and I have been there more times than I could remember. Biržai is the hidden treasure of Lithuania, that has quite enough points of interest to be a valid day (or even a weekend) trip. It is a great place for history enthusiasts, as there is Biržai castle, which was build in 16th century and survived many wars in the region, and a beautiful Astravo manor, which you could reach though Širvėnos bridge (it is the longest wooden bridge in Lithuania!). But wait, the town itself is very good looking: it has 4 churches, nice parks and a lake with lovely beaches where you can swim in summer time. Also, in warm season there are plenty of festivals and free concerts, which might be interesting to see.
For local food and beverages fans, there is a wonderful restaurant that is a part of a brewery (Biržai district is known for a very good beer). If you go there, I would recommend craft beer tasting. They even offer excursions in the brewery or full day trips around Biržai town.
If you want to have more of a nature retreat, Biržai could offer unique landscape of sinkholes. There are hundreds, if not thousands, in the region. The most scenic ones are Kirkilų sinkholes as they formed a funny shaped lake and has a marvelous (and free) observation tower, which is constructed to look like a boat! Another one, Karvės Ola might be interesting mostly for geologists but there is a full (and safe) hiking trail nearby.
Biržai is usually quite far from the most popular touristic sites in Lithuania and there is no train connection to a other cities, and bus ride takes a while (as it is in a north of Lithuania) but if you have a car, Biržai is right on the way from Vilnius to Riga. Also it is a perfect destination for people wanting to see real Lithuania, as most likely there will not be a swarm of tourists around. As well, it is a really cool destination!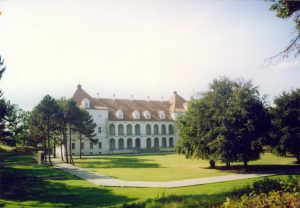 M. K. Čiurlionis National Museum of Art. Which is in Kaunas. And yes, I want you to see art because this guy was a genius. Mikalojus Konstantinas Čiurlionis is the most famous composer and artist that ever lived and walked Lithuanian land.
There are two museums in Lithuania dedicated to him and his works, one in Druskininkai, where he lived and worked and one in Kaunas. Art museum contains his paintings, photography, music, as well as small introduction to his life. This museum is a must and a main reason (in my eyes) to visit Kaunas as the art will impress beyond expectations.

Aukštaitijos National Park. You already know what to do there from my previous post but the nature is not the only thing to see in the National Park. The town of Palūšė has unique wooden church, dated back to 1750. The most interesting is eight-edge bell tower, it is the only one like that in Lithuania! Church complex is architectural heritage (more about wooden churches here). Also in the territory of the park there are 6 ethnographic villages: Salos II, Šuminai, Strazdai, Vaišnoriškės, Varniškės II and Krėtuonys. It is like a museum under the sky, as these villages are protected as architectural and cultural heritage, some of them have people living, some not anymore but for sure it would give a feeling how Lithuanian countryside used to look like! And of course there are more than that! One can also find old water mills: Minčios, Ginučių, Pakretuonės, Gaveikėnų, Brukninės are examples of some rather interesting places to see (well, maybe not all of them as once, unless you really like water mills).
Lithuania has about 1000 hill forts, which are an important relic of pagan Baltic culture in the region. Of course there are several ones in Aukštaitija National park! The famous one is Ginučių piliakalnis. it is thought, that in 9-12th centuries there was a wooden castle (first mentioned in 1373, burned by Livonian Order in 1433).
If you like honey, you will like Lithuania too! Besides of having great quality of honey products (basically anything you can imagine) there are several beekeeping museums, one of them is located in Aukštaitijos National Park so be sure to include it into your bucket list!
Of course, the National Park serves the purpose to protect the nature so you could expect to see one or two nice views. Also, I will tell you a secret: this region is rich in water! So many beautiful lakes but too little time. Here you can find some amazing water routes though the lakes and rivers. It is magnificent during the good weather and if you decide to take the boat, consider visiting Ladakalnis (it is a hill), from there you can see at least 6 lakes! If you are more like a hiking or biking type, then there are plenty of opportunities to explore surroundings on land. For example this route.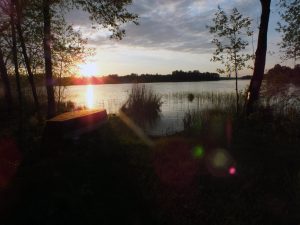 Pažaislio monastery. It is the largest monastery complex in Lithuania and is the one of the most fascinating Baroque architecture examples in North and East Europe. Founded in 1662 by Lithuanian Grand Duchy nobleman K. Z. Pac, the monastery was built for the order of Camaldolese monks. But wait until you see the church, the main accent of the monastery, which is a proud work of Italian artists and architects. The monastery is still working and has nuns living there, so the visitations are allowed but restricted to certain days, be sure to get the information before arriving there. During the summer there is an opportunity to attend Pažaislio muzikos festivalis (music festival) and enjoy classical music (the prices are really affordable).
Still hesitate if one monastery is worth a visit? Actually, it is. Also there are great places nearby too, so it would be a great opportunity to visit Rumšiškės, which is an open air Lithuanian ethnographic museum (and is one of the largest in Europe!). It would introduce to Lithuanian Ethnographic regions: Dzūkija, Aukštaitija, Žemaitija, Suvalkija and Mažoji Lietuva. They organize very interesting events for Lithuanian celebrations, like midsummer, mardi gras and others, so inform yourself and you might happen to be in a middle of a massive celebration! Modern music lovers could attend the weekend festival for music from pop to rock.The best part of this festival is that it takes place exactly at the museum premises. Yeah, so why not.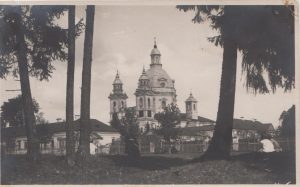 Ventės ragas. As the majority of Lithuania's visitors most likely you would plan to visit Nida, which is the piece of heaven on Earth, so put the Ventės ragas on you map as well, as it is right on the other side of lagoon. You could go there by boat from Nida itself or come by car from Klaipėda. Ventė is the piece of heaven on Earth pt. II, especially for those who like birds as you could find one of the biggest ornithological station in Europe. Scientists predict that more than 3 millions birds a day fly though this region, so chances to spot one that you like, are quite high. But this place is not only for bird lovers. You could find there the oldest lighthouse in Lithuania (well, we have only 7, so…) built in 1863.
Fun fact, in 1360 Teutonic order build a castle and a church here, but it was destroyed by lagoon, later on the stones from the ruins were used for building another church there but soon after the waters destroyed it as well. So people took the leftover stones and brought them to Kintai, to build a church there.
The nature is outstanding there and it is one of the best places to see a sunset in Lithuania. There is a lot of water ways in the region, so it is very cool to rent a kayak and travel around, or visit some swamps (yes, we Lithuanians love swamps). Aukštumalos swamp is the biggest in Western Lithuania. You could visit it as there is a small educational pathway for visitors. It is a famous one too, as it was the first bog to be described in a scientific monogram: C.A. Weber, 1902: Über die Vegetation und Enstehnung des Hochmoors von Augstumal im Memeldelta mit vergleichenden Ausblicken auf andere Hochmoore der Erde.
P. S. Try some fish in this region. It is delicious!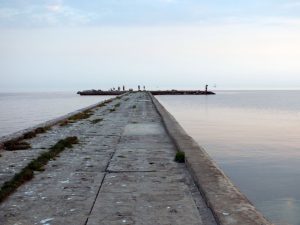 Of course, these are not the main destinations in Lithuania to visit. At the top of the most popular sights you would find Vilnius old town, Nida, Trakai, The Hill of crosses but I would like to encourage you to explore unseen places and make your own pathways. Create your own experience and your own trip through Lithuania (and thank me later!).
Some other places worth an interest in Lithuania:
Yes, I am a fan of my own country.
Iki pasimatymo