Sure, Brandenburg area is flat as a pancake but one can not complain about the lack of the nature, as the density of population is the least compared to other regions in Germany: the full federal state has less inhabitants that the city of Berlin (The city is not part of the Brandenburg)! It also seems a place to be for water sport lovers as there are plenty of lakes and rivers, washing the lands. So "this on that" as Lithuanians say.
The only problem was the weather and the lack of company to hike with. As the winter did not want to leave Europe and spring was snowier than winter, I had no real nice weather opportunities to go farer from Berlin. But one weekend seemed promising, so I started to look for hiking opportunities intensively. I think it was a moment of luck to stumble upon an invitation for a hike around Berlin. After agreeing on details I was already preparing for 21km of adventure.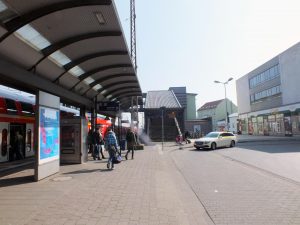 Everything began one early Sunday morning when I had to rush to a train station. As I refused to get a ticket one day before I had to be earlier to get it straight at the station. Even if I left the home with a huge time reservoir, I had a small shock to learn that I missed my metro train and had to wait 10 mins for the next one, which unfortunately made me a little bit nervous. Of course, I had to choose a wrong exit and then rush around the station to get in. Of course, at ticket machine there had to be a line of tourists. Yet, I still had some minutes left but once I had a ticket printed in my pocket I rushed into the tracks just to see that train is still not there.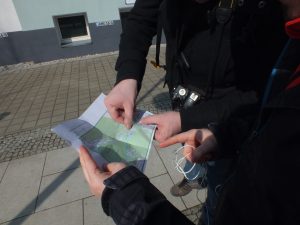 The train trip took not too long and soon enough I reached the station of Fürsterwalde (Spree), where I was due to meet the hike organizer and other participants. As some of the participants arrived with bus or later trains, we had to wait for some time until the full party finally met for a hike.
Hiking and biking in Brandenburg is made easy as there are many official trails, well marked and maintained. For the hike we followed Route nr. 66 – Der 66-Seen-Wanderweg. This is the main Brandenburg hiking way, circling the capital of Germany, Berlin. The length of it is 400 km, so it is quite a distance to walk (or maybe cycle). The circle begins and ends in the capital of Brandenburg, Potsdam, and has several parts that hikers could complete.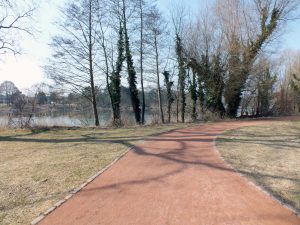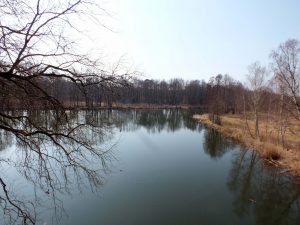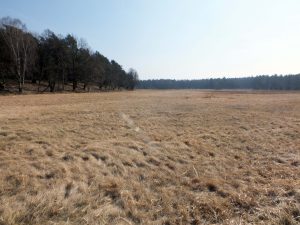 Fürsterwalde (Spree) is the most populated town in Oder-Spree region, which is locate at the Spree river, which flows later to Berlin. The city itself was founded near the site of former Slavic settlement as these tribes ruled these lands before Germans started to inhabit the land. They even have their own language, which is the second official language in Germany – Sorbian. But to get things even more complicated, there are two different Sorbian languages: Lower and Upper. Upper one is mainly spoken in Saxony, and Lower one in Brandenburg. As I know Russian and a little bit of Polish, Sorbian languages sound heavily like mixture of those two, at least some words are the same. I think history of this region is fascinating and that Slavic tribes reached so far south in the Europe.
The town was first mentioned in written form in 1272, so it is obviously a quite old town. Sadly we did not plan to tour the town itself, so we went straight to the start of the hiking way, which was at the river side. As the weather continued to be fantastic, we started to lose our hats, gloves and not long enough winter jackets. We followed the river, direction Berlin. Spree starts in Czech Republic and flows though Saxony, Brandenburg and Berlin, it is about 400km long (same as a hiking way around Berlin!). The water of the river is widely used for transportation, and it is very scenic in some parts.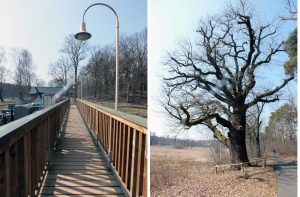 The water line of our route was very beautiful to walk at the meadows and beaches extended to the far horizon, being hugged by forests around it. By the hiking way there were tables and barbeque places to have lunch or a rest, sometimes even with an art around. I was surprised how clean the whole trek was and how good the quality of the pathway was.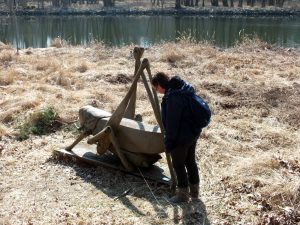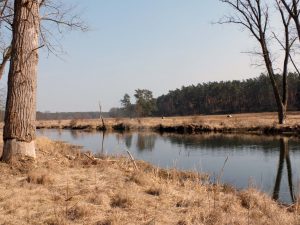 Without stopping but without rush we reached the Spree channel. The river itself has many "arms" and channels so it is interesting to canoe there, as you can actually get lost. As well, there is quite many water level changers, which is exotic for me as I have never used one in my life while water sports. We almost followed the wrong river flow but after very short D-tour we came back to the track we were supposed to follow. From there we took a little bit different road though the forest but as it is more crowded with bicyclers compared to a water line, we came back to the river quite soon.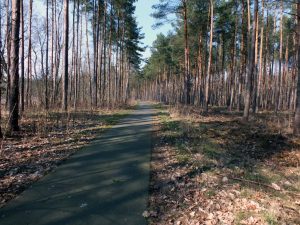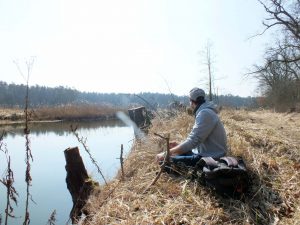 For a moment I thought that the trip would go smooth on a road but soon we found ourselves stuck in a wet field. Wet winter brought a lot of water and some parts of land just got too soaked. Sadly it was not as fun as swamps but we had to sweat a bit for crossing it with dry shoes. A little but still fun. After the little wetness we reached the Hangelsberg station with no furthers interruption. In the station we sadly lost one companion, who wanted to go home earlier.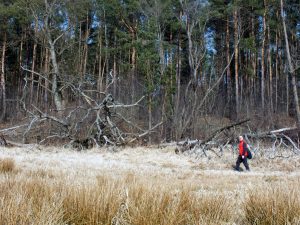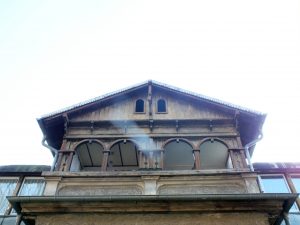 River flow and our way went different directions, this time we followed the forest road though the planted rows. The pathway was straight and rather monotonic and we were a tiny bit beside the schedule, time was pressing us to walk faster, sun hid under clouds and it became cold again. It was the last 7 kilometers and I was rather disappointed by the straightness and dullness of it. Little I did know that at the last kilometers of the route we will turn to the forest and walk in pedestrian only path. It was the most beautiful part for me as it was wild and muddy. On the last kilometer to the station we got the news that the train got delayed so we could finally relax just before the end and with no rush reach the train.
At the end of the journey strangers that I met in a morning became friends and we happily agreed to hike again and maybe one beautiful day, as, or even more, beautiful as it was that one cold but sunny day of an early spring in Germany finish the full 400km route around the Berlin.