The love for mountains I have was born in Poland, not more than 2499 meters above the sea level. Obviously it was enough for such a naive girl to fall in a long distance mountain fever. You know, living in as flat country as Lithuania is, anything above sea level gives thrill goose-bumps all over the body. So the love as it is started here 4 years ago and this is going to be a story how I came back to my beloved Tatra in 2014.
---
Our trip started as 5 exhausted students decided to travel after the exam session. Mountains it is. And only few days later at 4 or 5 a. m. stuffed with people and things the tiny Nissan Almera hit the road. It took about 14 hours to reach the first hills, 1 hour more to find our camp site and another hour to build a tent. Tired of siting all day in a tiny car it didn't take us long to fall asleep all excited about the following days of adventures.

Little did we know what the following days had in store for us. The first night was a scene itself – we experienced real and mighty mountain summer storm. The wind invited our tent to dance and it danced, oh how it jumped up and down, becoming flat as the ground (of course, sticking to our faces too) one second or filled with the storm as a balloon the other. The lightening was indeed frightening and thunder not just came after, it echoed from the rocks around us, coming not as one but as hundreds of sounds. A real mountain opera, I would say.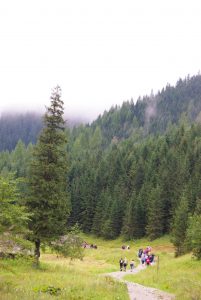 So we already felt the power and the following day was meant to touch it with our bare hands. Armed with hiking shoes, walking sticks, cameras and snacks in our backpacks we were eager to hike those rocks. Three of us did it for the first time so the decision was made not to scare the company and do not attempt to hike the hardest route. Average one it is, showing all beautiful elements that might follow the next days when our group is more confident with ourselves.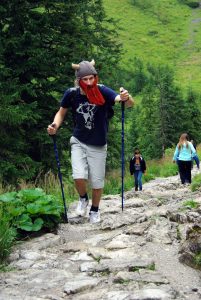 The morning started with an easy and pleasant hike though the town of Zakopane. The mood was perfect, all well rested and super enthusiastic to hike. Great start, so being young and strong we took the steeper path. Five minutes later we started to undress ourselves, fifteen minutes later all panting we took a break. It wasn't that high, we should not lack oxygen, right? It is such a shame but while resting on every corner an elderly couple overtook us. Not even once. They were slow but steady. Bingo, that is the secret of not losing your lungs. The company was slowed and breathing breaks were forbidden. No more sprinting was helpful and finally we had some distance hiked.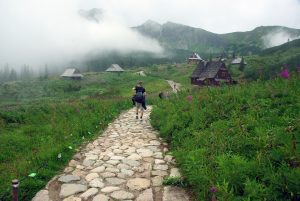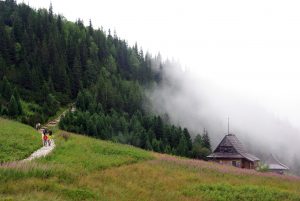 The first pass was done and we started to hike downhill towards beautiful Hali Gasienikowej. Our mood was back once we came out of the forest and saw the valley. It looked like a place from fairy tales, all foggy (cloudy) and full of blooming flowers, berries, tiny cute houses and huge rocky summits around. You just can not be sad or tired when seeing that. The cafe was our longer stop for lunch before real rocks. The morning part was only a piece of cake, we can not even dare to say that we got tired. So after a brief belly filling stop we lifted out lazy city asses to go and reach that mountain top! Well, we hadn't decided which top at the moment, but any top is good!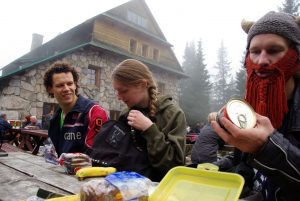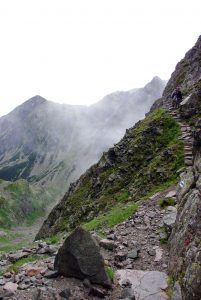 Our all plans had to be cancelled because of oversleeping all alarms. We had to improvise. Calculations were made and we seemed to be able to reach Zawrat pass and then maybe Kozy Wierch top if we did it fast.
All fed and very happy we enjoyed our short journey till Czarny Staw Gasienicowy. Mountain lakes are always magical places to be and it was very necessary to have a short "make your next desktop photo" pause. After we started our 600m ascend. Surprisingly we didn't lack breath anymore and could keep a decent pace, this time more up. Rocks became steeper and first signs of high uncomfortableness as well. Poland is great, because all official routes are very nicely made and those who want to feel more stable on a rocky surface can help themselves by holding metal chains, installed specially for the nature tourists.
Holding our lives on those chains the party crawled up, sometimes stopping for a short break to admire the scenery. Very soon we were not able to enjoy any view, well, except rocks, because everything around was eaten by a cloud. Amazing experience it is to see how in several minutes a mountain fog comes, burying everything around. Those who were not amused by heights had some hours of peace.
It was a nice surprise to meet nuns on their way down. This particular route has do to something with religious miracles and these sisters went up to pray at the statue of Mary, which is installed on a stone, very close to the pass itself.
Quite shortly we stepped on the pass and amazing view of the second valley of Pieciu Stawow Polskich with its three wonderful lakes showed . It had almost no greenery, nor phone connection (not true, after some time we caught a Slovakian provider), only wind, stone and ravens. The wind tried to take us from the ground, nobody quite liked it but for ravens it seemed to be a fun play to soar on strong air current. It was the point where we had to decide what to do now, try to reach Swinica, Kozi Wierch or go home on the same route. Well, definitely I hate to go back on the same path so with encouragement from me the decision to reach Kozi Wierch was made. But first a group photo and some snacks.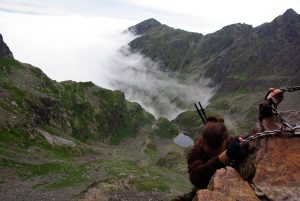 From Zawrat pass several routes diverged. We chose our path ("more or less there" – I showed to my friends with a palm) and went down. Then more down. And down again. Something was wrong, I thought, because the map showed that we had to do more up than down. Of course, we had no compass to check the directions (mistake no. 1, now I don't go anywhere without a compass). Shouted at my friends in the front to stop. We spent several minutes looking at a map like donkeys and then realised and admitted – wrong direction. Such a waste of time. Going forward was pointless, we had too less of daylight left to safely get out of the mountains and no equipment to make a shelter for a rainy and stormy night. Had to climb back to the pass. None of us was happy. It was getting darker and rainier around us, so we had to flee back to our camp in Zakopane using the same route we came up. Not even one of us suggested to complete the route to the top, so all of the party hugged wet rocks and started to slide down little by little.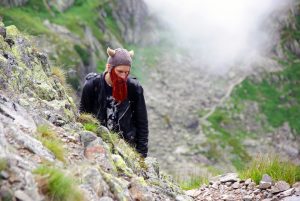 My palms froze from holding those cold and wet chains. Mountains became colder and darker by every minute. Of course, we had no light (I am not even commenting this…) so we had to hurry to at least reach the first valley before complete darkness – from there we can follow a huge path back to the village. At some point of hurrying we noticed that we didn't really see one of our friends. He was slower but we always had him in our sight somewhere. This was not funny at all. We stopped to wait, shouted for him but nothing came. One of us volunteered to go back and find him. So only three of us proceeded to go down. As we reached the hut, we stopped to wait for 10, 15 and then 20 mins. No sign of our friends. it was so cold and wet that we couldn't stand outside so we came in the hut for a cup of tea. Wrote a message to friends, then tried to call them – no service. It was too dark also not very smart to send another person to look for them, so all we could do was to wait for them. After 30, or more, minutes of worrying we saw our friends returning, all was good.
After safe return to our camp we slept like stones. It was a nice introduction to the mountains and the next days brought more amazing views and hikes. To be continued :).