Where in Germany would you go to catch the best view?
I really hope Schloss Neuschwanstein was not your first thought, and it if was, then you need to read this article more than anything as I will tell you about the land of sandstone and breathtaking views that is not requiring the last drop of sweat to be sacrificed. Actually it is requiring only a day or two and maybe some good friends to keep a company.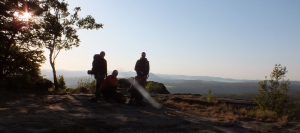 It was a long weekend, meaning that every German would head somewhere outside the town to collectively enjoy nature (Sorry, Germans, but it is true). But we are smarter, that is why I kicked guys out of their warm and comfy beads at 4:30am, so we would catch almost the first train and avoid the tourist crowds. The morning preparation, quick breakfast, last packing and we are almost running to the train ('cuz of course, we are late), 1h nap in a train and we exit to the unknown.
Well, actually, we exited in Bad Schandau. Our train tickets included a ferry ticket to an other side of the river Elb as well but the ship was nowhere to be seen so we started our hike with the 'exciting' way through the village and the bridge. We walked without a real plan or goals, and to be honest, I did not really expected anything much from Saxony.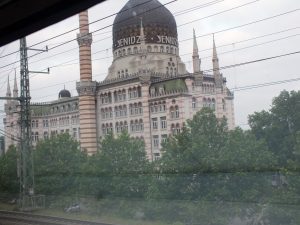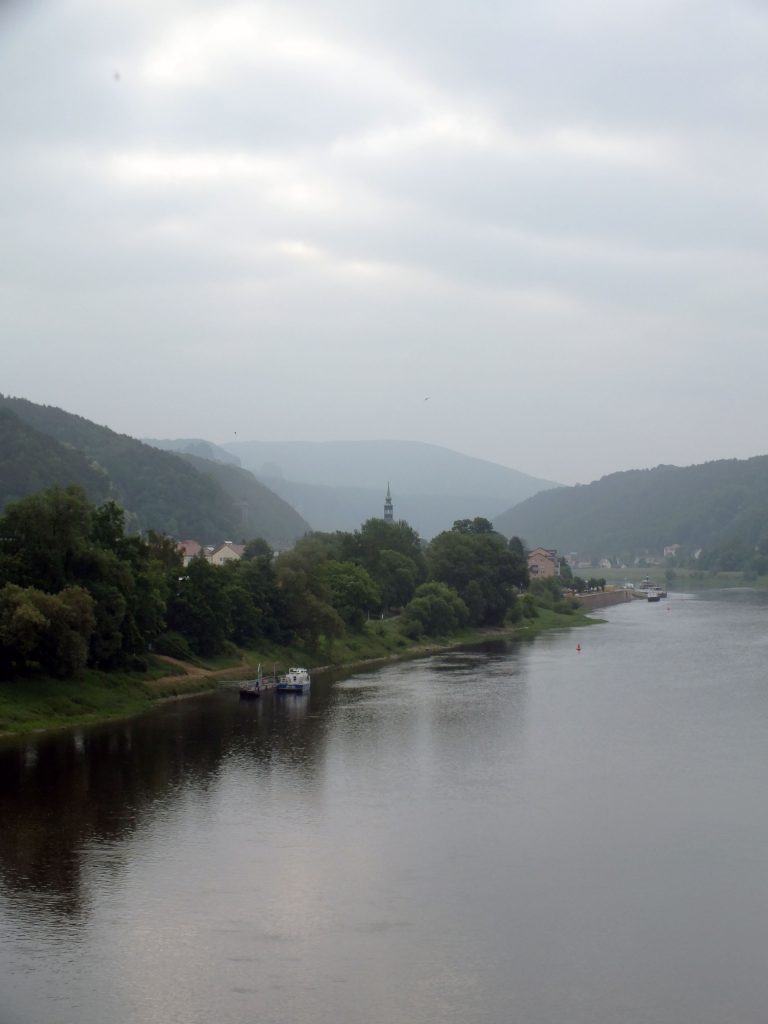 Getting out of the town took quite a bit, for those who are more patient I would recommend waiting for the ferry as it would safe some kilometres. Although, the town walk gave its own advantages – bakeries and fresh bread. After second breakfast we finally hit the road for real and started our tour called Malerweg (way of the painter).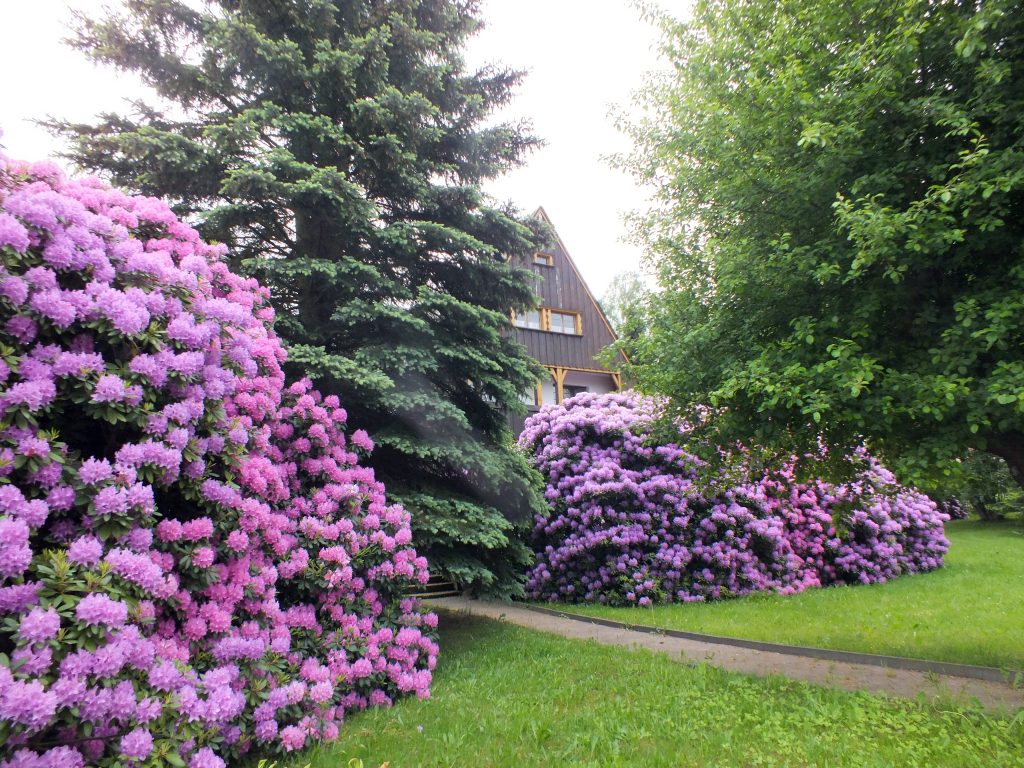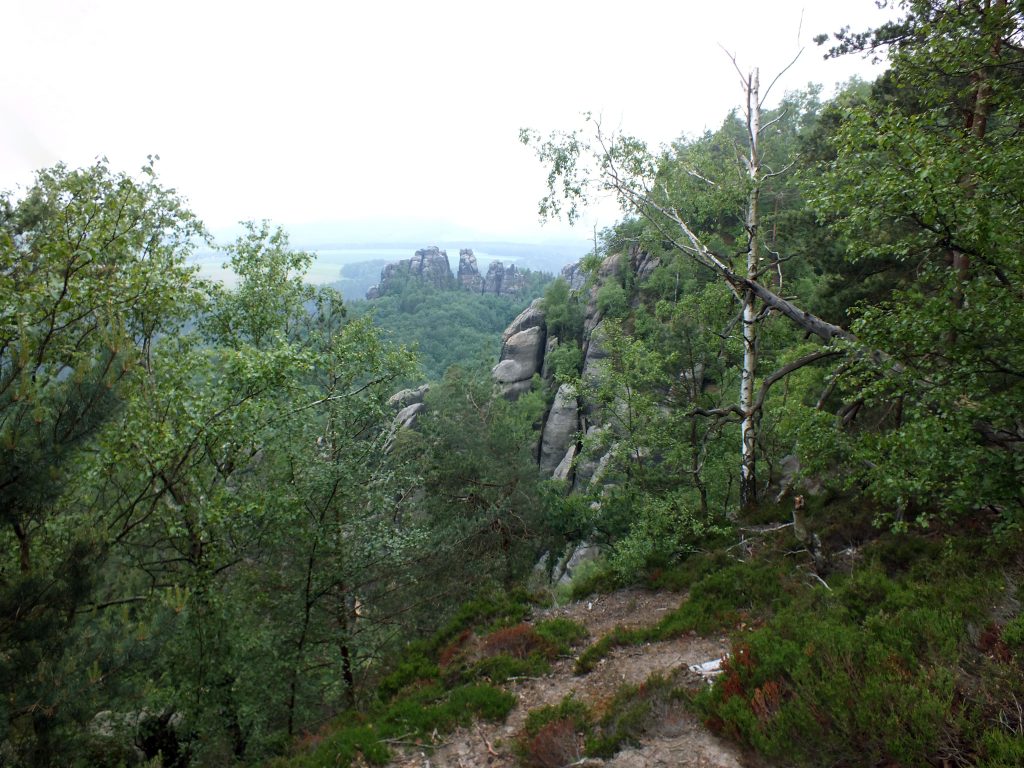 We followed an easy road below the rock walls rising on the surroundings, met no soul and after a short stroll the way became much steeper, actually it became so steep that we had to climb stairs and then a ladder. With our fully packed backpacks we barely squeezed though the rocks, yet I found it to be rather fun. As our way turned towards Schrammsteine, more people started to appear. It is a popular viewing point as it is easily accessible and does not require too great of a hike, also, once you are up on the top, it is easy to access other points of interest by following Gratweg. Schrammsteine is a group of several rocks and the main viewing point is over 400m above sea level. It is pretty cool to visit as it gives a wonderful view to the valley, but not so many visible rocks. Without a longer hesitation our company started to squeeze through the hiking way, it followed the tips the the rocks, small passageways though the naked stone, ladders and views more and more impressive.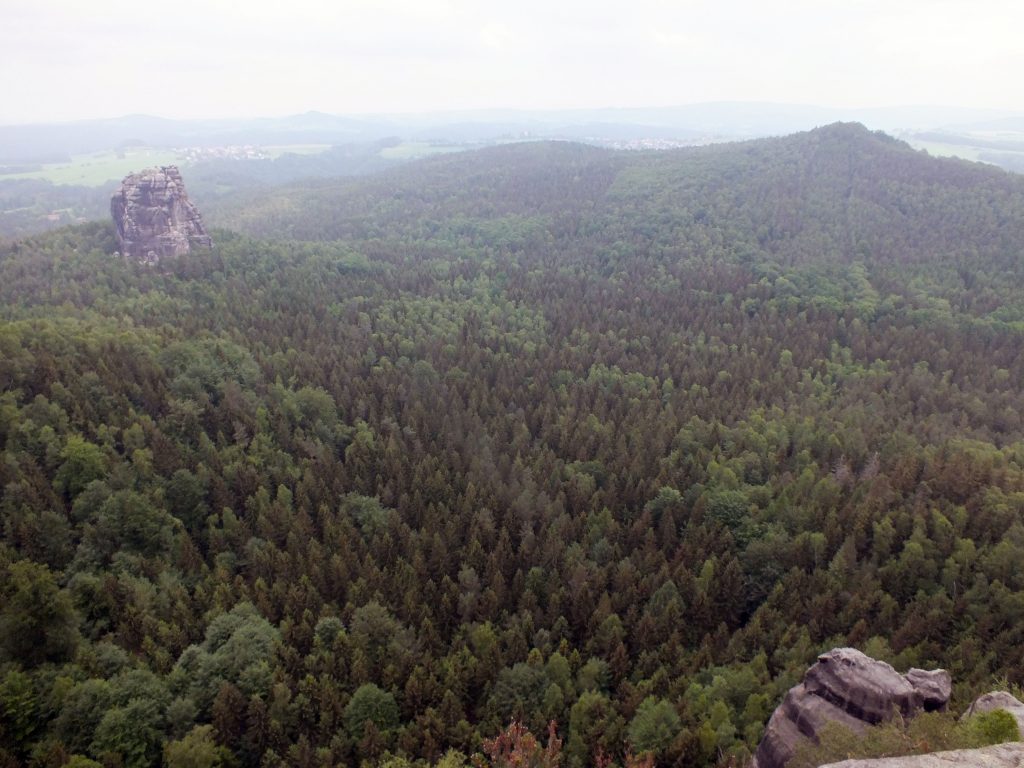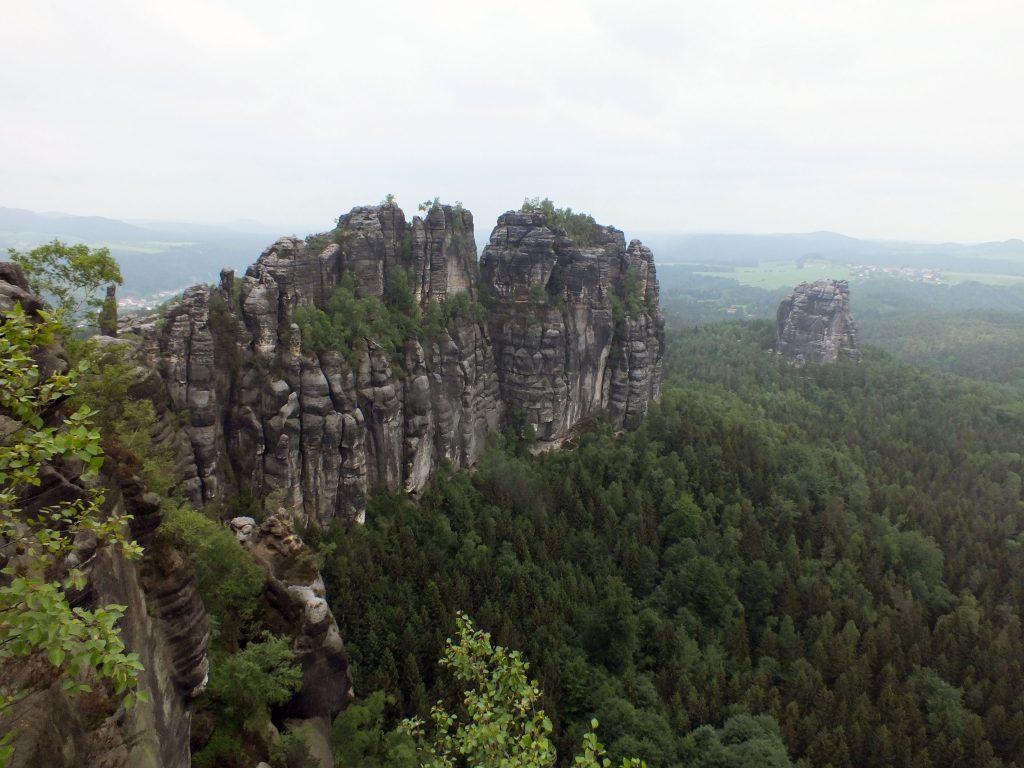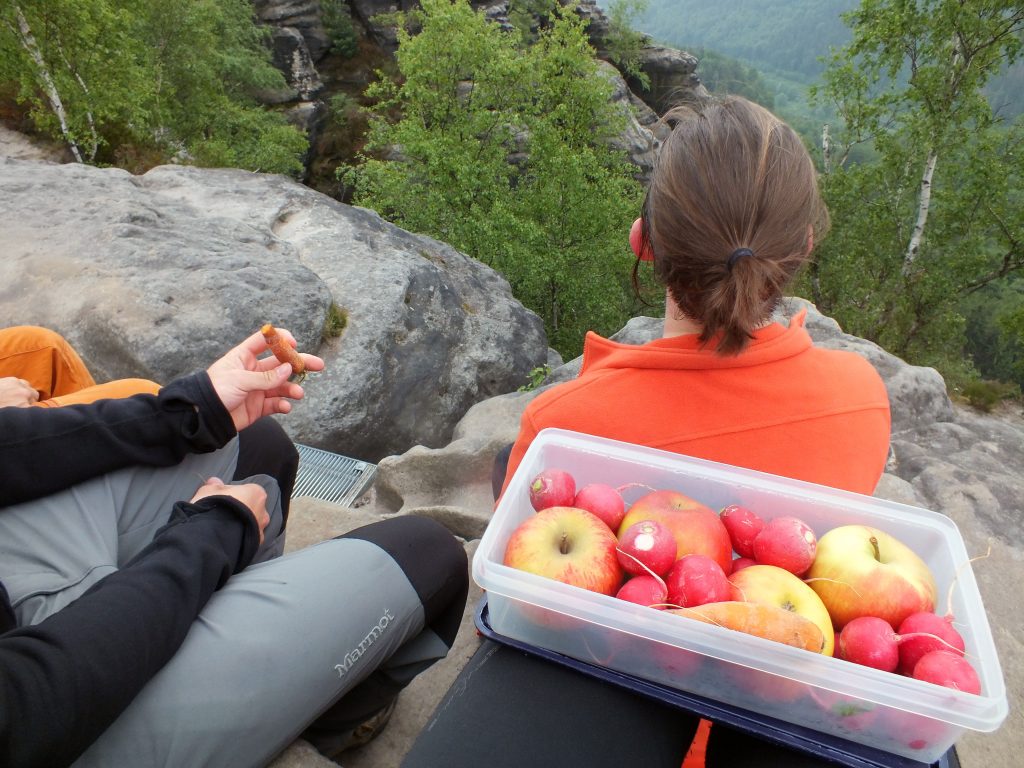 Enjoying the marvelous weather the path laid itself under our feet and the map was forgotten, until we reached the dead end at Kleines Prebischtor. We had a choice to go back several kilometers to hit the right way or … Of course we did not go back :D. My OS (OpenStreet) maps showed a tiny shortcut going through the valley nearby and with a little bit of convincing we followed a barely visible trail down the hill. It was amazing. First we slid down the rocky and pretty steep slope, holding scarce tiny bushes for stability and fighting against backpacks dragging us to the bottom. After falling several times and unwillingly sliding on the butt, the inevitable discussion weather to turn back arose. Luckily we did not give up and continued our exciting way down. Once we reached the valley, sun was hiding behind the dense, tall and old forest, sandstone cliffs also casted a thick shadow over us, it was dark, humid and cold down there. I would say even a little bit spooky as the trailing ways and signs were long forgotten and seemingly not so many adventurers step in this place anymore. The way out of the valley did not seem that obvious as well. After following vague trail we ended up loosing it as at all. Another chance to turn back and go around, yet my Garmin was convincing that it was not more than several hundred meters till the route we wanted to reach. The only problem was that we were not sure if the rocks are passable. The only way to know is to go and try to pass it one way or another.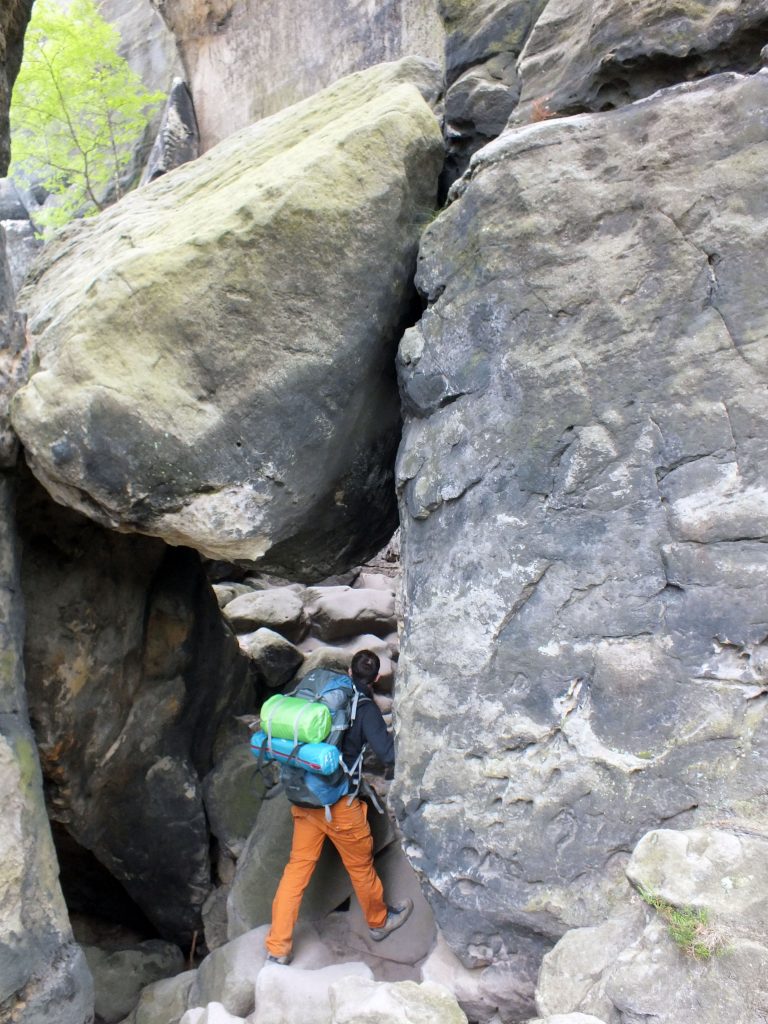 Sandstone was coming closer and closer together, 'pathway' was rising. Not recommended for claustrophobic people: cliffs were so close to each other that we could touch both of them at the same time (no squeezing though). It was surely exciting and despite the tiredness, all of us smiled. We emerged out of the darkness and reached our goal like heroes: heavy breathing, sweaty and with red cheeks. We made the best shortcut ever!
Back to the main trail we met plenty of people, all rushing to one direction: Carolafelsen and Idagrotte: two superstars in the region (of course, after the Bastei Bridge, which we avoided because of tourists flocks). Carolafelsen is a famous viewing point, almost always packed with tourists, yet it is not a bad spot for having a break and enjoying the scenery, but Idagrotte is for sure very interesting place and for me it was one of the most impressive places I have seen in Saxonian Swiss. Grotto is a little bit hidden from the pathways, so reaching it is an adventure itself and for sure it is not for light fainthearted. The tiny path is leading around a rock cliff, not wider than necessary for one person to pass, having a wall one one side and a vertical drop on another. But the view is worth it, once you pass the tricky part, you would reach a natural made cave, that is one of the biggest in the region. I heard a story, that stone age people used it as a camp and for sure they could not have picked a better place for a shelter: not obvious location, not easy to access but easy to defend if needed and the view from the grotto reaches wide and far, also it is massive enough to provide roof for many people.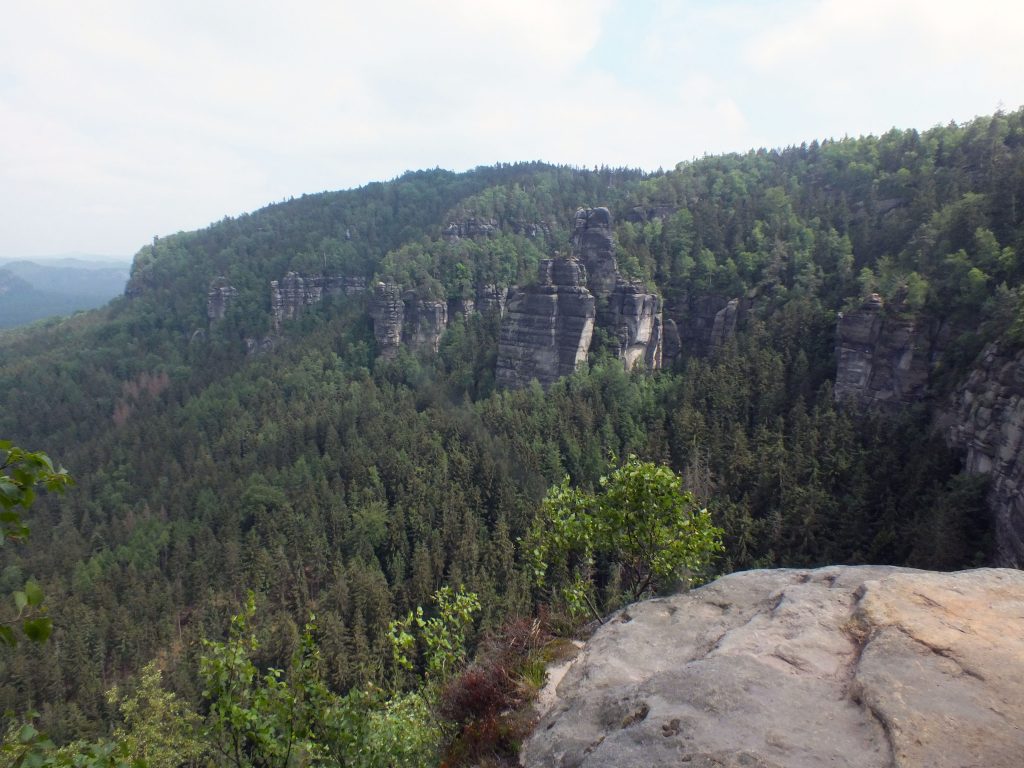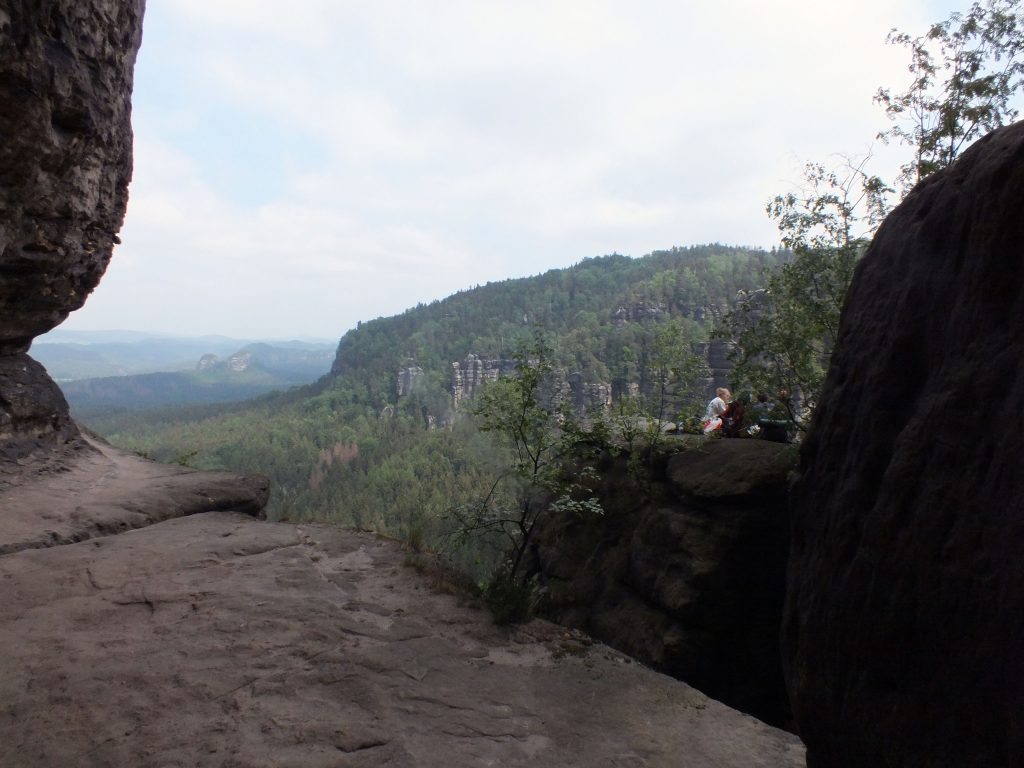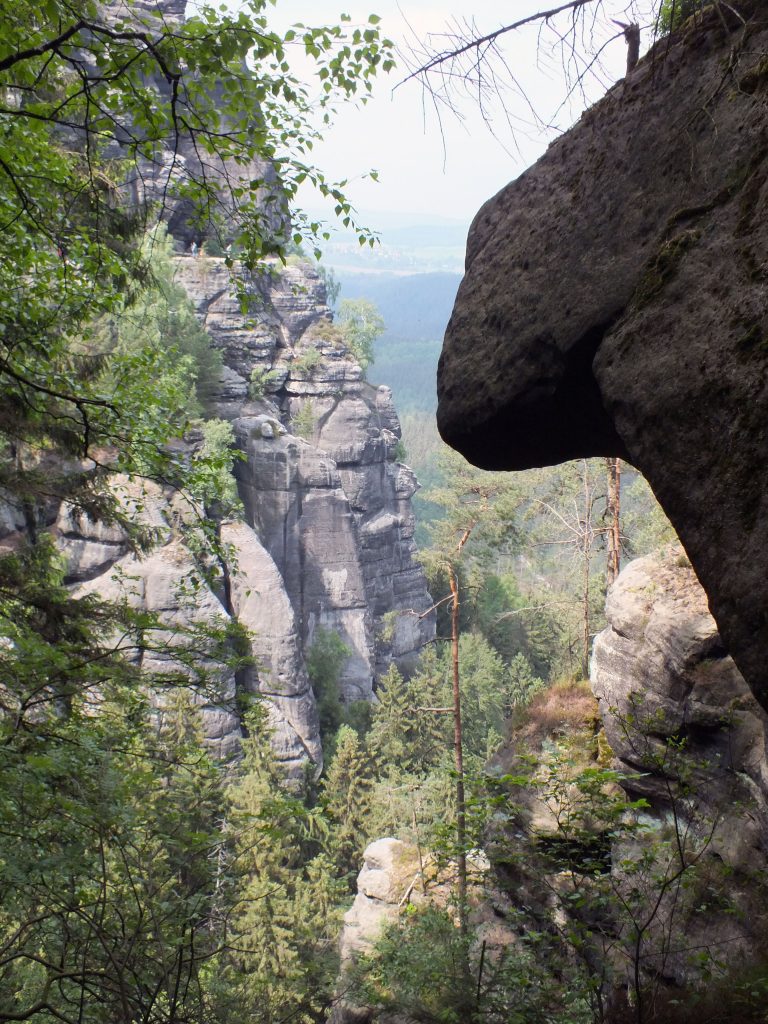 It was a time to decide where our camping place shall be, as the sun was already on a route of setting down. In Saxonian Swiss National park hikers are allowed to spend a night in the park, but only in officially approved 'boofen', which are some kind on natural caves that happen to have flat and sandy flooring and are on one end open. There are several lists of official camping places, one of them you could find here.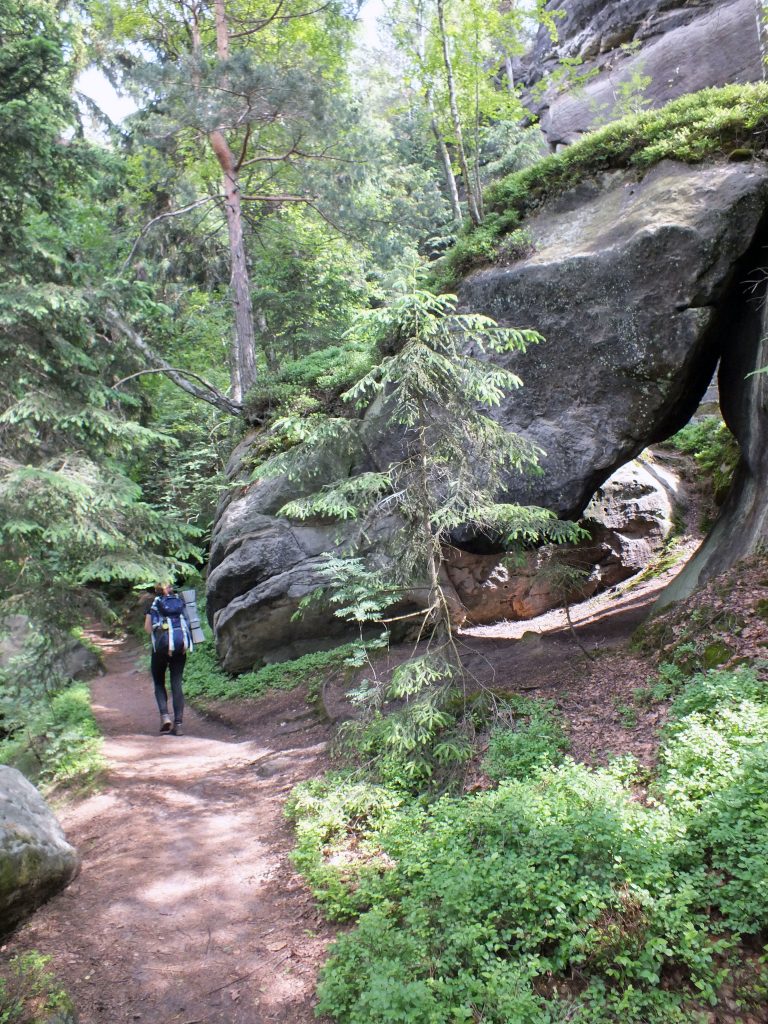 As the weather was marvelous and extremely warm as for a spring day, it generally was a good idea to avoid the most popular and accessible boofen, so after consulting our paper map (yes! We are that old-school) we decided to head towards Kanstein. It actually was a distance to go but two of caves were close to this location. In reality it is way farther than I have thought, it took a while to go down the stone range, the view was incredible though. And then a longer part of forest roads, straight and not very exciting.
Closer we got to our boofen location, the more hikers with sleeping gear we saw. Now it was time to get nervous, because if the cave is too full, it means we would need to go and find other place for overnight. We decided to head straight to the farther one of the two to not waste time, as most likely the first one would already be taken. We hurried and spent the leftovers of our energy to race up the hill to gain advantage over other groups. Opponents seemed not to really care about our route and left track earlier, direction of the first boofen, so more relaxed we followed the map. The track got smaller and smaller, barely visible and seldom walked. It made us nervous, that maybe there is a mistake on the map, and actually there is no second cave. We followed the slope and almost at the impassable end we saw a boofen.
Oh, what a disappointment it was to find out that it was not actually a real cave and it had so little space that 4 of us could never fit there, and even if we tried it would be quite dangerous as is ended with a steep fall down the hill. Sad and even more tired we had to turn back in search of a sleeping places, the only option was to go back and hope to find some space at the first shelter.
Luckily someone on the sad way back noticed a small pathway leading around the Kanstein. The intuition told that following it might lead to a boofen, yet it was going uphill and all of us were exhausted to the point that another accent with so results could lead to frustration. One of us volunteered to scout the path, left the backpack and disappeared in between the boulders. 10 minutes later we received good news: there was an actual, comfy and spacious boofen nearby. With new energy the party kept going upwards until the final stop of the day.
The evening and dinner brought the spectacular scenery. We ate dinner at the top of the Kanstein, carried hiking kitchen, pots, food, sitting mats. It was fantastic to finally take off the shoes, enjoy the sunset, the food and the breathtaking heights, connecting rock and forest dance. Nobody else joined our remote and hidden cave, we had the rock and stars all for ourselves.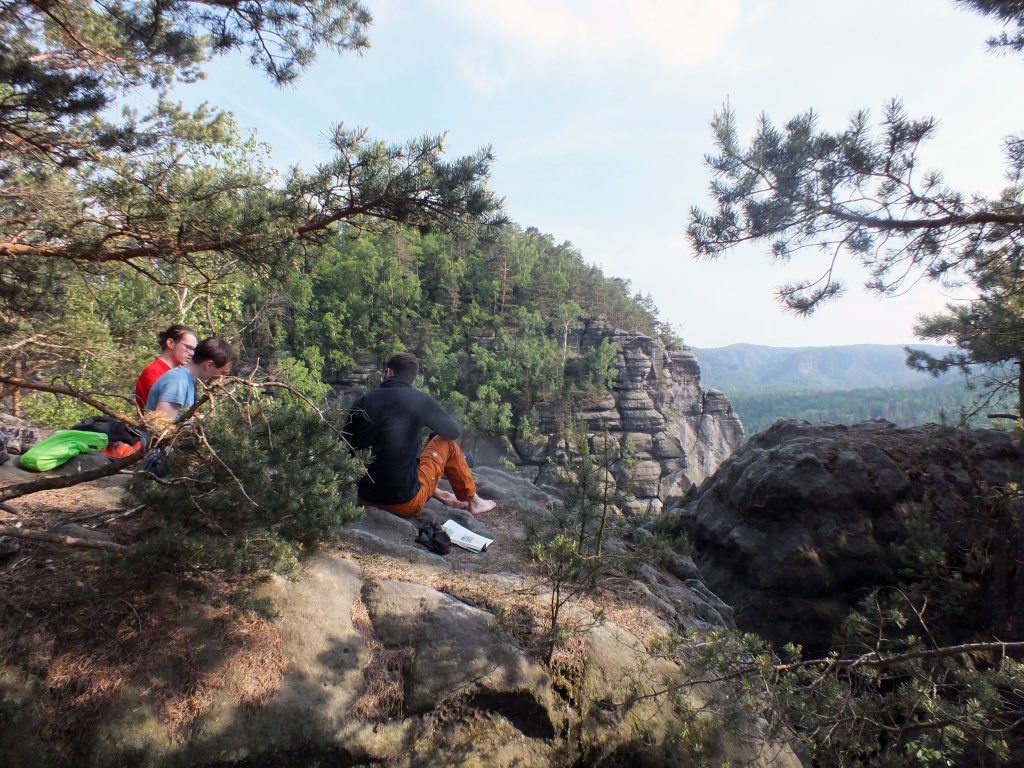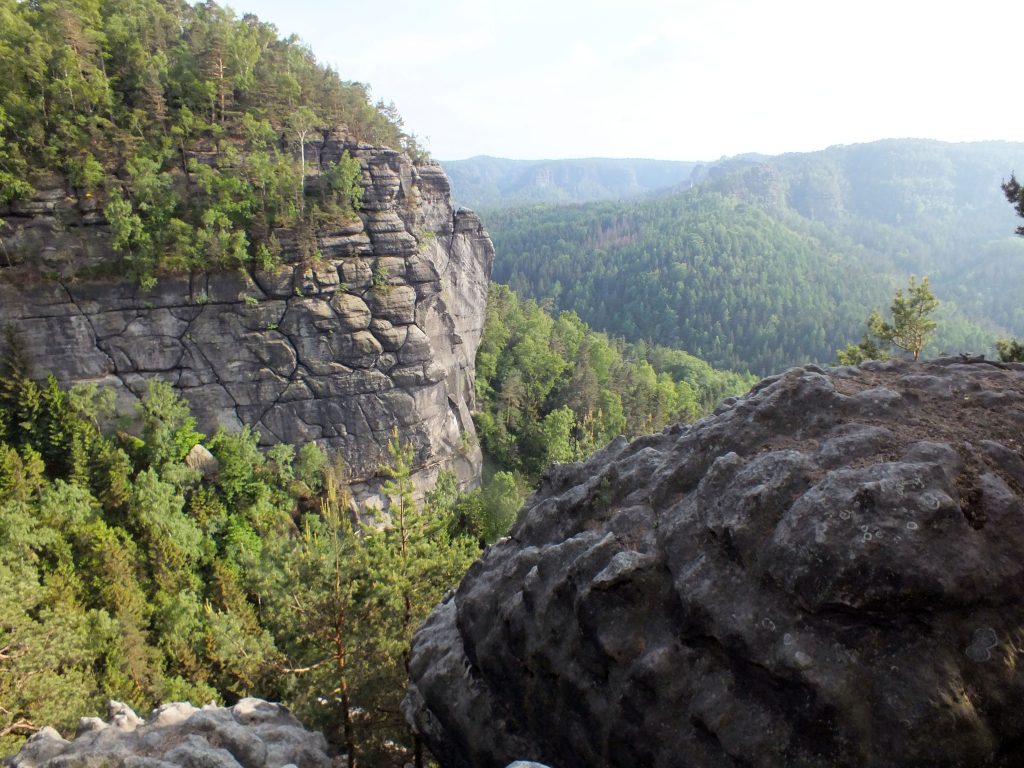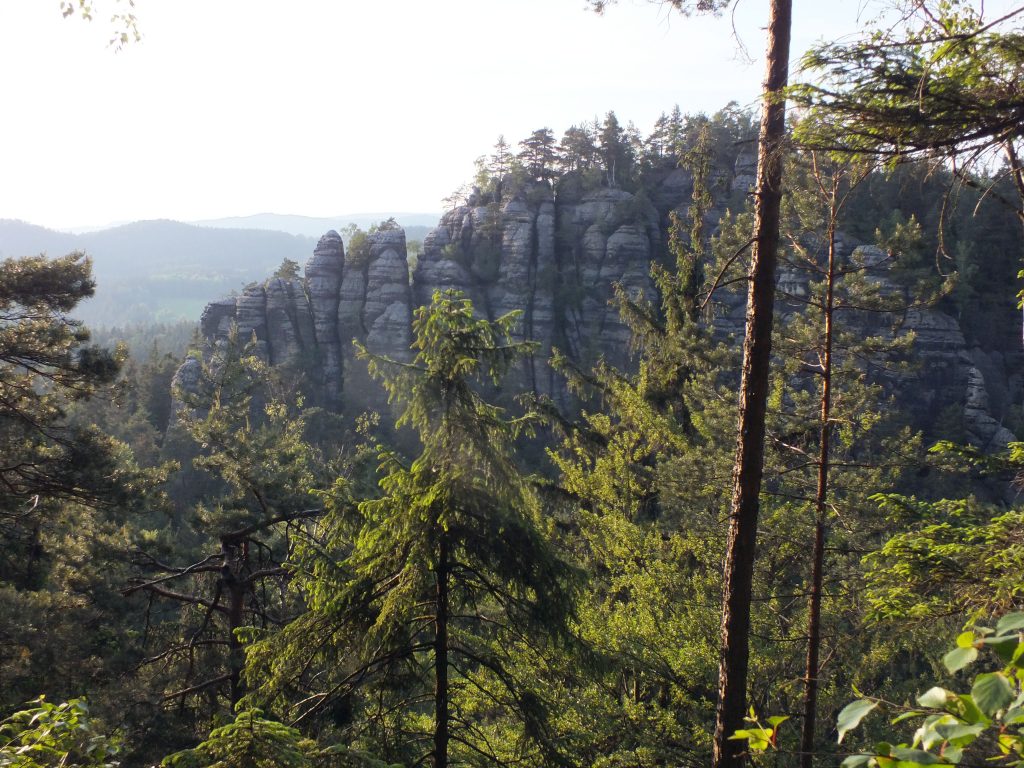 If you are interested in seeing the full track of the trip, you can find it here.
P. S. There will be a part two, as the trip went forward and we explored plenty of other wonderful places!